Pizzagate
With the Pizzagate scandal making waves the American People are now observing something. The political establishment in Washington is more criminal then they thought.
The question is who runs the political establishment in Washington?
Now you know why every President hopeful has to be approved by the Jewish Lobby that controls Washington, AIPAC. This is because America is owned by the jewish oligarchs from the top down. Starting with the Federal Reserve which owns America and the money supply. Money is the god of the world, if you control the money you are god on this world. Look no further then the Rothschild's, Warburg's, Goldman Sach's, Rockefeller's and on. All Elders of Zion. The Rothschild family who is at the top of the Globalist system call themselves in their own Zionist publications "The Kings of the Jews". They also control Free Masonry which is why the Jewish Lodge, The B'nai B'rith is the command and control Lodge of all Free Masonry.
This also goes to the emails that were leaked on DNC boss and Washington chief, Tony Podesta, who attends strange code word parties with his brother. That are hosted by the owner of Comet Pizza, the owner of which is dating a DNC elite, media elite, David Brock who has been convicted of pedophilia in the past. This Comet Pizza has strange art on its walls you can look up for yourself, that points to sexual abuse of children. Its literally graphic images of sexual abuse of children. Hanging right on the walls of the Pizza place. Comet had this up on their media. They quickly took it down when the scandal came out. There is also evidence of them putting coded symbols for pedophilia into their logo's.
Note Tony Podesta is praised as a "Friend of Israel" in the Jewish Press. Because those are his Washington masters:
http://www.jewishpress.com/news/breakin ... 016/10/27/
"Podesta and Jake Sullivan, Clinton's likely appointment for National Security Advisor (he is currently serving as Vice President Biden's NSA), are considered friends of Israel."
Tony Podesta also has strange art in his home he is proud of. Such as a statue of one of Jeffery Dahmer's victim's that is headless hanging from the roof of the celling in his home. Dahmer [who had jewish blood] was a child rapist and murder and murdered in general. There is also evidence Dahmer worked as child procurer for some powerful people where he lived. And guess what ethnic group that might have been made up of if one looks into it.....Jews.
Podesta statue made from the police photo of one of Dahmer's victim: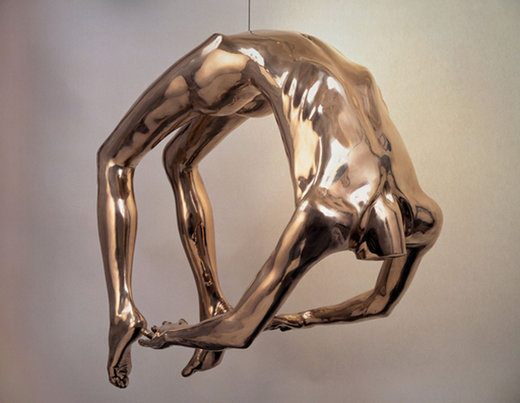 Note this Comet Pizza has held major fund raisers for the Democratic Party and has major donations made to it from Hillary [who is jewish] who we know her and her husband, Bill. Both made regular visits to jewish Epstein's rape Island, who is a convicted pedophile, Mossad agent and was charged with sex trafficking as well. The jew, Sorro's, organization has also made donations to this place. If one pulls up a list of names connected to this Comet Pizza you will find a lot of Jewish names as well. A lot of Washington's elites have attended these strange "Pizza Parties" Obama paid 65,000 dollars for "food" orders from this place for one of his elite White House Parties. Many have pointed out the different names of food are code words for children. Pizza is code for female children. There are tunnels under Washington, and its believed they are also being used for such criminal enterprises. The owner of this Comet Pizza, is listed as one of the most influence people in Washington. Do you think they really just like the food there? Or is he providing something else?
This is not just the Democrats either in the late eighties the Franklin Credit Union, scandal came out showing the Republicans establishment is also involved in such. The G.O.P, jewish boss, Roy Cohn was believed to have been a major figure in such. This Roy Cohn was Donald Trump's mentor as well. Trump has also gone to Epstein's rape Island.
The Jimmy Savile, scandal in Britain showed the same. Savile was untouched his whole life despite being a known sexual predator because he was a child procurer for the British establishment. Any investigation into Savile was shut down by the higher level political's in Britain in his time. Prince Andrew is also know to have visited Epstein's Island. Its well known the Jewish Rothschild's control the establishment in Britain. They even brag about it. Along with other Jewish Banking elites.
Remember the most notorious convicted Pedophile in recent history, Subway clown, Jewish, Jarred Folge. Its obvious he was part of a larger pedophile ring that was kept quite. Folge was given a slap on the wrist compared to his crimes as well. We also know that Jewish owned Hollywood, which the Jews brag in the Israel Times is such. Has always been a pedophile elite of Jewish sex predators. Its well documented the sex slave trade is run out of Israel, and the Jewish mafia in Eastern Europe was caught in a snuff film operation where they kidnapped, torcher, rape and murder children on tape for 20.000 dollars a tape. Mostly to other Jewish clients.
Jewish control of the sex slave trade:
topic145.html
Then there is the reality of ritual child sacrifice the Jews have even admitted themselves to have engaged in. The command to do such is part of the Jewish religion right in the Torah. So is raping children.
Jewish ritual murder and snuff film rings:
topic580.html
Nambala the Pedophile rights organization that wants to legalize raping children has always been run by Jewish bosses. The symbol of Nambala was also being used in the logo's of this Comet Pizza.
This goes into the nature of the Jewish mind and the religion they created for themselves:
Because as below their Jewish holy book the Talmud, shows raping children as young as three is a moral act for Jews:Note Xian is code for Goyim at the time because for the jewish rabbi's xianity is the religion for controlling the Goyim by the Elders of Zion....
The reason there is so much pedophilia in the establishment elites, power structure is simply because its the Club of Judah. Who's in their racial, ethnic religion this is normal behaviour. Its just Judaism.
The other reason is as the Rabbinical Jew, Adam Weishaupt who was an agent of the Jewish Rabbinical class, Rothschild's and the globalist agenda of the Jewish race, which is the Torah.....Stated:
Its the system the Jewish elites use to recruit morally corrupted and easy to control, Goyim servants to act as front and middle men for the Jewish power establishment. This is why Epstein is also a Mossad agent. His Island is a blackmail center to maintain control over the establishment for the tribe.
This is what happens when you allow Jews to rule over you. Not even your children are safe.