JEWS OF THE WORLD UNITE
George Bush President of America. Early census records in America listed the Bush
family as Jewish. The Jewish Harriman dynast built them into powerful family.
Bush praying at the wailing wall and PM Tony Blair with Brittan's Chief Rabbi.
Vladimir Putin President of Russia.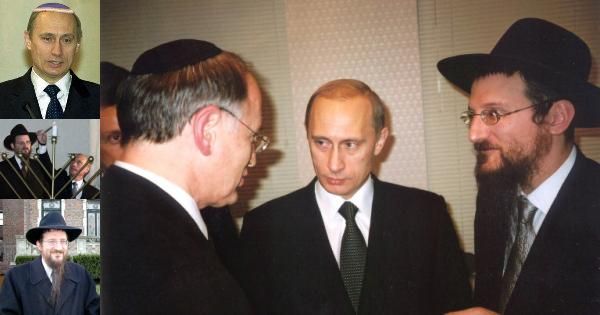 President Putin [also Jewish] and Russia chief Rabbi Beler Lazar. The head oligarch of Russia and the head of the Russian Jewish Congress, Abramovich put Putin into the Presidents office. Abramovich stated in a 2005 interview that Putin is Jewish on his mother side making him racially full blooded Jewish. Putin's original autobiography also listed his mothers maiden name as Jewish. Before being changed in other editions. However given Putin bragged about his father being a Hebrew Talmud scholar and growing up in a house full of Jews. His father might have also been Jewish.
Bush and German Chancellor Angela Merkel [Kantor]. Merkel is Jewish her family surname means Kantor in English from Polish before being Germanized later, that is a Rabbinical name.
The entire British ruling and Political class is tired up in Jews and Pedophilia as the Jimmy Seville scandal showed.
Harper Prime Minster of Canada the B'nai Brith is across the road from his party office in Albert. The Jewish Press of Israel praised him as the biggest ally of Jews ever.
The Ukraine, Harper and Cheney. The Ukraine is being run by the Jewish IMF and Jewish Oligarchs. The Jews want to regain control in the Ukraine and use control of both Russia and Ukraine to push towards a Third World War.
Prime Minister of Australia. Jew run.
The President of France Chirac. Sarkozy was an open Jew who called for White French to be raced mixed out of existence, however how many French PM's are even Gentile? Or does it even matter anymore?
Openly anti-European, Jewish, former French President Sarkozy. How do you think France got full of all those brown Muslim People who blow stuff up and shoot hundreds of people?
Chirac and Regan. Who do you think ran the "Bank of France" the same Jews running the Federal Reserve. Rothschild's.
Prime Minister of Canada Chretein. The new Liberal PM, Trudeau who Chretein served under his father, before becoming PM. Whole campaign was financed by the Jewish, Billionaire Bronfman family. The Jews also funded Harper in the same election.
Iloilo, President of Fiji. Even Fiji is not safe from Jewish control.
Barros Former PM of Portugal. A Jewed nation.
Hillary Clinton is Jewish from her Rodham side of the family. You can see the Jew genes in her daughter.
Joshua Bolten Chief of Staff.
Carl Rove Deputy Chief of Staff. Surrounded by his Chief Jews.
Dick Cheney.
Chertoff Head of Homeland Security and openly Jewish. Chertoff allowed the Mossad agents
arrested with connections to the 911 attacks go and run off back to Israel. He also helps
run much of the building of the Jewish run surveillance state in America including putting
the "prono scanners" of the TSA into existence. The NSA spy grid is all run out of Israel
by Mossad front companies.
President Obama.
Current President Obama, who bragged "He is Jewish in his soul". His whole career was built by powerful Jews out of Chicago and funded by Goldman Sachs. And has Jewish blood from his mothers side. The Democrat Party head is a Jewess along with their Party's major funders and the Republican wing is also contorted by power billionaire Jews like Alderson. Many America President's have been Jews such as FDR, Eisenhower and Johnson who was behind planning the USS Liberty attack with Israel then covering it up.
United States Secretary of State, John Kerry a Jew who's real family surname is Cohen and was changed to Kerry later.
Many of the above, actively conceal the fact that they are Jews.